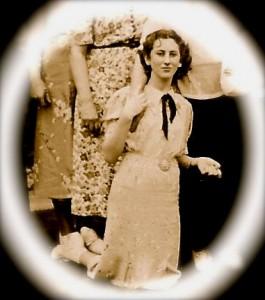 Canadian novelist, Rohan O'Grady, dies at 91 is a headline you will not read in any Canadian newspaper. June Skinner, who wrote under that pen name, has never received the recognition her work deserves. She never thought of herself as either a pioneering Canadian novelist or as a unique woman of letters, but she was both. She began publishing when Canadian novels were thin on the ground, and the publishers who picked her up were not in Toronto but in London and New York. From 1961 to 1981 she wrote in complete isolation, living a quiet life as a wife and mother in West Vancouver.
June's father, Fred O'Grady, was a man of legendary difficulty — a proud autodidact who read Pound and Joyce. June seems to have inherited from him both his love of literature and his DIY approach to education. She was happiest when she had a book open on her lap, and she read to fulfill no one's curriculum. When she began writing fiction, she put down whatever passed through her mind with no thought to literary convention. Her approach was simple — she loved a good story, and she knew how to tell one.
The second Fred in June's life was the man she married — Fred Skinner, a transplanted American who worked on the news desk of the Vancouver Sun. For 20 years she wrote her odd, compelling novels, and then she stopped writing them. It was a relief, she told me shortly after I married her daughter. June hated publishers. "They squeeze you dry," she said. "Whatever you give them, it's never enough." No, she said, she never missed writing at all, but she always made sure to tell me how much she admired me for writing novels. She carefully never read a word I wrote, and I respected her for that.
Lets Kill Uncle is the best known of her books. Its protagonists are two children on an unnamed BC Gulf Island (which I happen to know is Saltspring where June lived in the 1920s). It has an old-school RCMP officer, a sentient cougar whose thoughts are reported to the reader, and an uncle who represents an unspeakable evil. Is it a YA, a Gothic, a work of magic realism, a twee bit of British-inflected colonial fiction, a thriller, a horror story, a satire, a wacky romp, or a bleak commentary on the terrors of childhood? It's a little bit of all of the above, but none of those categories define it. I don't care what you've read, you will never in your life have read anything quite like that crazy book. For the right kid at the right time, Let's Kill Uncle can rearrange your mind for you — as it did for Theo Schell-Lambert who wrote about it in The Believer and brought June back to public attention – as it did for the British cartoonist and satirist, Martin Rowson, who wrote a magnificent tribute to it in The Guardian.
June was as eccentric as anything in her novels. She hated the sun and never went out in it without wearing a hat. She favoured leopard prints and amber. She filled her home with objects so extravagant that they transcended the notion of "kitsch." My favorite was the nearly full-sized paper tiger just inside her front door —  you could drape your coat over him, if you had a mind to. She was enormously kind to our family, the perfect batty Nana who left wonderfully strange presents at our front door — Baroque glassware, a metal detector, enormous bottles of wretched white wine, outfits for Mary and the girls, some appropriate and some not so much.
In the late 1990s June began to suffer from dementia and eventually lost nearly all of her short-term memory, but she was always fully present in the moment and could recall long past events with absolute clarity. Almost as though the dementia had lifted a burden from her, she lived in the now — always happy, always reading even though she might not be able to tell you anything about what she'd just read, always glad to see us.
She spent her last three years in a care facility. Because she was unfailingly polite and never any trouble, she became a favourite of the staff, and they allowed her to operate on her own time just as she had at home. Because there was someone on duty 24/7, she could walk in circles through the halls all night long if she wanted to, and she often did. At the end of her life she became detached and wise. Even though she wouldn't remember later what she'd said, her advice was always practical and sound, her stories always fascinating. Whenever we asked her how she was, she always answered, "I'm doing just fine now that you're here!"
Seven weeks ago she stopped eating. We gradually realized that she might be nearing the end of her life. "The O'Gradys take a long time to die," she told Mary proudly, and she did — lasted so long that we kept hoping for a miraculous reversal. I remember her giving me a dazzling smile as full and open as a child's.
If anything can be said to be "pure," June was pure Irish, and she died on St. Patrick's Day, 2014, a little after 10 o'clock at night. Mary, who was with her, said that she died as gently as a whisper. Mary and I sat with her afterward. We were in the quiet sunroom and bathed in moonlight. Looking out through the high windows, we could see a clear bright sky scattered with stars. In death, June's face was one of the most utterly beautiful I have ever seen. We talked to her, and about her, and cried at her loss, and I read her favorite poem, Robbie Burns' "Flow Gently, Sweet Afton." And as we sat there with her, we were transported into something as mysterious and magical as anything in any of her books. It was a time out of time — that moon-drenched night — and then in the second hour we knew that she had left us.
Wordless, I cannot write more of an elegy than this. We miss her terribly.
Keith Maillard