Verbal discourse is a social phenomenon–social throughout its entire range and in each and every of its factors, from the sound image to the furthest reaches of abstract meaning.                                                                               –M. M. Bakhtin
While I was living in David Omar White's chicken coop in Boston in 1969, I blocked out a plan for my future work. (See Keith Maillard: A Self Portrait.) I began by sorting all of the writing that I'd already done and dividing it into piles.
The first pile included several drafts of my incoherent unpublished first novel as well as any of my writing that had Alex Warner and Evan Carlyle in it—stories, fragments, and notes concerning the experience of young men growing up in West Virginia in the 1950s. It would gradually morph into Alex Driving South (1980).
The second pile was the material starring my androgynous protagonist, John Dupre. He, too, grew up in West Virginia, but his experience differed significantly from that of Alex and his friends because John is—as we are able to say now—"non-binary." He is very much a part of his generation—involved in the political movements and huge cultural changes of the times—but his story also involves an exploration of gender. My first pass at this material would result in The Knife in My Hands (1981) and Cutting Through (1982).
The third pile consisted of stories narrated by a character I called simply "Tom"—a North Dakota country boy, Vietnam vet, and righteous dealer—as he floated around in the hippy counter-culture of Boston. Years later I would call him Tom Parker and intertwine his story with John Dupre's. Tom would first appear in Cutting Through (1982) and then, much later, come into his own as one of the two narrative voices in Looking Good (2006).
The fourth pile wasn't a pile at all but a single piece of paper on which I wrote, "THE GENDER REVERSAL NOVEL." I wouldn't know what that novel was about until I wrote Two Strand River (1976).
The fifth pile was material exploring the dark side of the counter-culture, most of it centered around a crazy rock drummer, Steven Buehl, and his wife Kathy—fictional characters who were also living in Boston at the same time I was. Steve and Kathy would go on to become two of the three narrative voices in Motet (1989).
With the publication of Motet in 1989, I felt that I had completed the project I'd planned twenty years before. I decided to write a series of novels that would create a multifaceted portrait of my fictional town of Raysburg, West Virginia, across a span of more than one hundred years and from diverse viewpoints. Each of these books would be written in the style of the time in which it was set.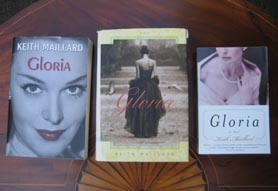 The turn of the previous century was represented by Light in the Company of Women (1993); the early 1990s by Hazard Zones (1995); the 1950s, as viewed from the country club, by Gloria (1999); the 1970s seen from a very different angle, that of the Polish-American community, by The Clarinet Polka (2002).
When in high school I first decided that I was a writer, I wrote poetry, but then fiction gradually took me over. During the Gulf War (1991), I began to write poetry again because I needed speed and intensity. My war poems made up the first sequence of what would become my only book of poetry published so far, Dementia Americana (1994).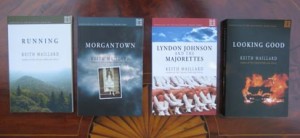 When I was considering the republication of some of my early novels, I realized that I had failed to get John Dupre's story right the first time—that I should consider The Knife in My Hands and Cutting Through as no more than preliminary drafts—so I had another go at it, writing the Difficulty at the Beginning (2005-2006) quartet. With exception of the first book, Running, these books are not rewrites but new works.
I have completed a new novel, Twin Studies. It's set in 2009-2010, largely in Vancouver.
I have completed  a non-fiction book, Fatherless. Several selections from of it have already been published.
I have written the script for a full-length graphic novel, Tiffany, and am writing the script for a YA graphic novel, Harvest Home.
Although, like Yossarian in Catch-22, I fully intend to live forever or die in the attempt, I have been feeling lately an increasing sense of urgency. There are a number of things I want to say—immediately, without having to deal with editors or publishers—and saying them is one of the purposes of this website.
It has occurred to me that fiction writers are often not right in the head—or, as I have sometimes said to my students, "Doesn't it ever strike you that spending most of your time making up stories about imaginary people is a very odd thing for an adult to be doing?" I began writing seriously at fourteen—creating imaginary people—and I'm still doing it. It's been a hell of a ride. I've enjoyed it most of the time, and I hope that my readers have too.